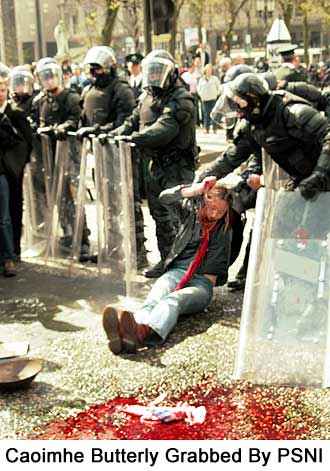 Uh boy, more trouble for the poor Palestinians. It seems the Zionist so called
"police force"
have been on a wee trip to the North of Ireland.
Why?
Well, they came to learn from the masters of murder, torture, oppression and collusion.
They have come to "learn PSNI methods" note; the PSNI is the
"new"
name given to the same old RUC. In essence,
lipstick has been put upon the pig
, to dress it up and make it presentable,
but it's still a pig
.
Link A DELEGATION of nine senior Israeli police officers has just completed a short period in Northern Ireland studying how the PSNI deals with community tensions. Maj Gen Amichai Shai, head of the Israeli police's human resources department, and who previously worked at operational level throughout Israel, said the visit was very useful, particularly in devising ideas and strategies on how to engage with minority communities.

He said Israeli police were trying to devise better strategies for dealing with minorities such as Palestinians living in Israel and also with groups such as Bedouins, Druze, Christian and fundamentalist Jews.
So what tactics will they learn from the RUC?
What policing methods will they take back to deploy against the
"ethnic minorities"
in Israel and occupied East Jerusalem? I will outline a few of the
MANY
examples of policing we are talking about here.
More after a few "Visual examples" click to enlarge:
A large part of some of the most horrific atrocities that took place here were at the hands, or the behest or help of the RUC.
The "so called" police force, which, was actually an armed Protestant
militia
operating with impunity against the Irish and Catholics.
What will the Zionist police learn from the RUC?
Plenty…..
Their specialty consisted of Murders, collusion with Loyalist paramilitary gangs, raids at all hours, terrorizing, threats, and terrorist death squads.
There was no rule of law what so ever
, not even our Civil Rights lawyers were safe, Civil Rights Lawyer Rosemary Nelson wiped out in a car bomb.
This after reporting she had received death threats from the RUC and Loyalists, these were reported before the United Nations and the United States Congress, to no avail
.
wiki In 1998, the United Nations Special Rapporteur on the Independence of Judges and Lawyers, Param Curamaswamy, noted these threats in his annual report, and stated in a television interview that he believed her life could be in danger. He made recommendations to the British government concerning threats from police against lawyers, which were not acted upon. Later that year, Nelson testified before a committee of the United States Congress investigating human rights in Northern Ireland, confirming that death threats had been made against her and her three children.[1] Nelson was killed, at the age of 40, by a car bomb outside her home in Lurgan, County Armagh, in 1999.
Then we have
another
Civil Rights lawyer. Pat Finucane
murdered
whilst eating dinner with his family
and
children in his own home.
But it was not only the collusion and hands on murder or assisted loyalist murders they were guilty of.
Often the murders were merely ones that took place on mere happenstance whlst the RUC stood idly by both watching and allowing the murders to take place. And afterwards
tipping off the murders and helping them avoid capture
and arrest. After all, they must stick together to continue their murdering and ethnic cleansing of Irish Catholics from Protestant areas:
wiki Robert Hamill was attacked by a group of Loyalists while walking home from St. Patricks' dance hall with friends in the early morning of 27 April 1997.[1][2] After walking along Market Street from the dance hall, they came to the intersection of Market and Thomas Streets in Portadown, where they were attacked.[1][2] Robert and Gregorvy Girvan were kicked by the crowd while their attackers shouted abuse at them and Robert Hamill was knocked unconscious almost immediately.[2] Gregory's wife Johanne and his sister Siobhan Garvin called for help from four RUC officers sitting in a Land Rover about twenty feet away from the attack, but they didn't intervene to stop the attack.[2] The assault lasted about ten minutes, leaving both men unconscious.[1] Just before the ambulance arrived, one of the RUC men got out of the Land Rover and told Siobhan to put Robert into the recovery position.

Robert Hamill never regained consciousness and died of his injuries on 8 May 1997.[1] The cause of his death was recorded as "Diffuse Brain Injury associated with Fracture of Skull due to Blows to the Head".[1]

Six people were arrested after Robert Hamill's death, but only one was eventually tried for his murder.[2] Paul Rodney Marc Hobson was charged with murder, but found not guilty.
And here's what the Zionists had to say when they were done "learning" from the RUC:
"I think one of the important things we have learned is the focus here on policing with the community as opposed to policing the community," he said.

Maj Gen Shai said he was also impressed with the PSNI being described as a police "service" and this was a focus that could be usefully applied in Israel.
God help the Palestinians in Occupied East Jerusalem,
they have become the Irish in Occupied Ireland.
And evidently will now be treated as such
.